Celebrating High Achievers
Some of our high-achieving Year 13s were able to come back to school this week for a special lunch hosted by Principal Salvatore Gargiulo. He congratulated them, and encouraged them to stay in touch to inspire a new generation of MHS students to achieve their very best.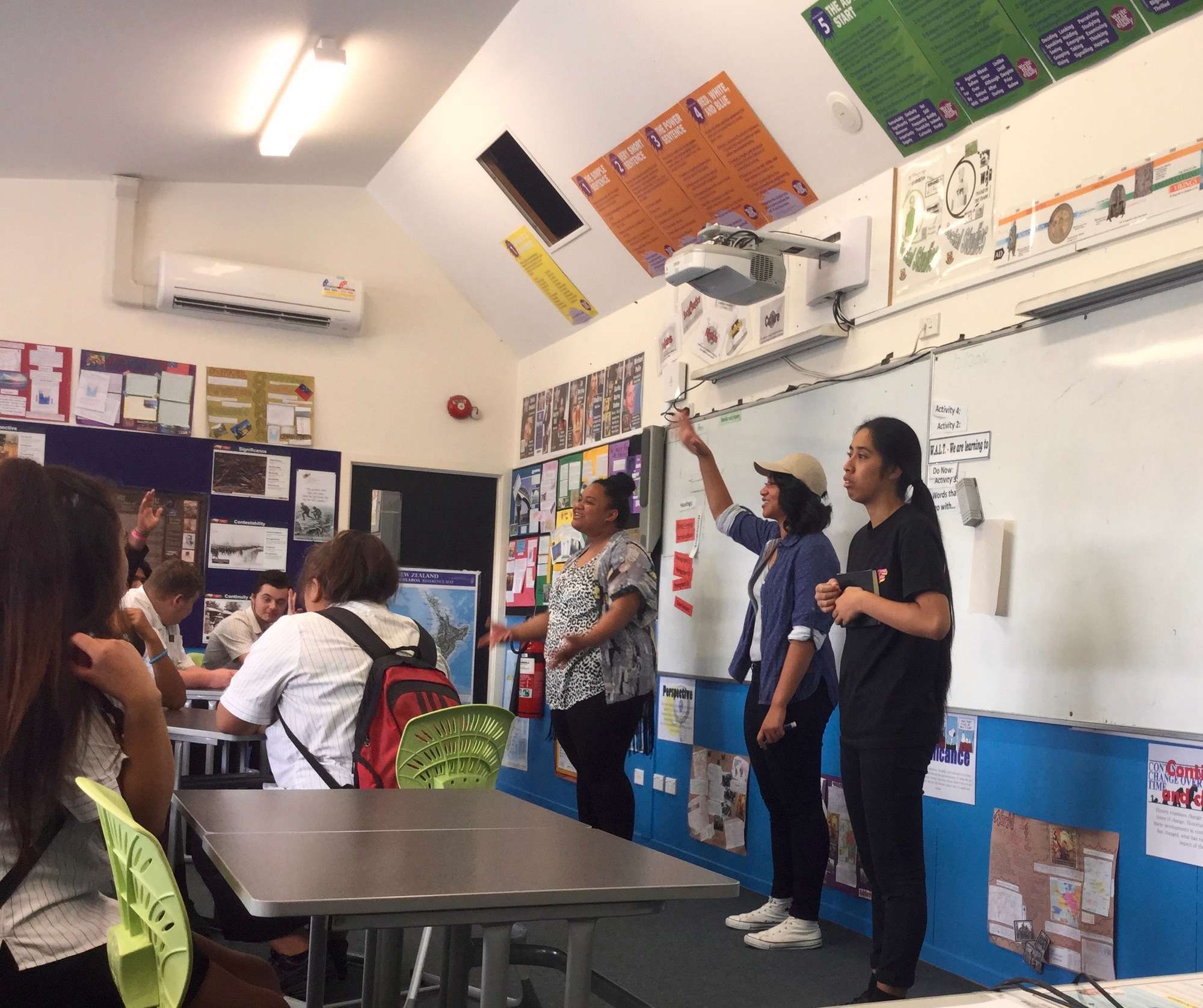 Three students have made a commitment to do that. School leaders from 2015 Lupe Fifita, Mele Tapueluelu and Helen Lesa (pictured) have formed a social enterprise through which they plan to provide motivational workshops for our students.

They are being supported to develop the enterprise through Live The Dream, which provides training to help them sharpen their purpose, grow connections, and develop their entrepreneurship capability.

"We've called it the 412 Project, after a Bible verse that encourages young people to be empowered and have faith in their abilities," Mele says.

"We know there is a risk that students get to Year 13 and all they care about is passing papers. We want to create an event that will inspire them to lead a life with passion and inspiration," says Lupe.

We wish the 412 team the very best for the development of a thriving social enterprise.

All the best too:
To our 2015 leavers for the start of your next stage in life.
To our senior students for another strong year of NCEA achievement in 2016.
Level 3
Excellence Endorsement (50 credits at Excellence)
Jessie Chen gained two Scholarships (Biology and Physics) and will study for conjoint degrees in Law and Engineering at the University of Auckland.
Helen Lesa - conjoint in Computer Science and Commerce

Merit Endorsement (50 credits at Merit or above)
Jamie Brewer – Midwifery at AUT
Natasha Chand – Bachelor of Computer Science majoring in Information Systems at the University of Auckland
Ranish Chand – Bachelor of Engineering at University of Auckland.
Lotoa Crawley – plans to join the Air Force
Tessa Dreadon – Animal and Environmental Science for a Bachelor of Science at Waikato
Kyran Gill – Bachlor of Arts majoring in English and Classics at the University of Auckland
Rebecca Girdwood – Bachelor of Nursing
Vicky Guo – GAP year (working)
Arden Infante – Bachelor of Information Sciences, AUT
Sandeep Kaur – Bachelor of Laws, University of Auckland
Ashley Ly – Bachelor of Arts majoring in Psychology and Biological Sciences at the University of Auckland
De'Vontaye Matekeua – Bachelor of Arts at AUT
Thongchai Manawangphiphat
Joseph Nguyen – Bachelor of Laws at University of Auckland
Manisha Paliwal - Psychology and Biological Sciences (double major) at the University of Auckland
Ryanel Reynon
Carla Salting – Bachelor of Nursing
Lynna Son – Bachelor of Commerce at the University of Auckland
Mele Tapueluelu - conjoint in Arts and Commerce
India Te Ao – Health Science majoring in Health Promotion and Psychology at AUT
Hien Tran
Cassandra Wilkinson – Bachelor of Nursing


Level 2 High Achievers
EXCELLENCE
Ashlee Cochrane
Ishani Gupta
Andy Ha
Amandeep Kaur
Prabhjot Kaur
Hayley Mai Ngo
Chang Nguyen
Aeluna Nissan
Adam Scott

MERIT
Fawziya Ali
Jade Bourke
Rosiah-Telelina Crichton
Dennis Daniela
Kelsie Downie
Phoebe Fiso
Maile Guttenbeil
Peter Hang
Sulani Helg
Sukhmander Kaur
Samarth Khanna
Liana Kuklinski
Claudine Kumar
Lavinia Latu
Jackie Lauaki
Brayden Luamanu
Preeti Mani
Niko Moala
Ashlin Iehu Moetara
Elesha Moore
Lan Anh Nguyen
Julia Mapusua
Kartik Ohari
Shekhar Paliwal
Josie Peteli
Kajal Raju
Braden Robins
Te Wai Rua-Cowen
Aimen Sana
Anna Siafolau
Serenity Sola
Cathy Stainthorpe
Caitlin Turner
Jordan McPherson-Whimp

Level 1 High Achievers
EXCELLENCE
Rida Basharat
Namisha Chand
Timothy Dreadon
Monica Hor
Anjali Karan
Suhena Kumar
Sunita Ly
Tequilla Moses
Ann-Tauilo Motuga
Han Nguyen
Carmel Nickel
Samantha Oh
Torina Samuelu
Dania Shafiq
Zuleika Uy
Dodgson Tan
Andre Yalda

MERIT
Jazmine Abdul
Ashna Anjali
Henry Ape
Jazz Asiata
Brianna Bowdler
Aaron Bradley
Eden Brien
Janna Buenaventura
Rahil Chand
Ritika Chang
Kat-Kat Chicay
Grace Clark
Dat Dao
Lydia Day
Ilaisaane Falevai
Sau Fatuleai
Nikita Goundar
Sione Hasiata
Andy Hoang
Eucharist Ieremia
Jay Inthavong
Denver Jones
Jessie Kaifoto
Isabel Kamoe
Breeze Kavana
Chim Khiev
Alan Khun
Dipanjali Kumar
Marlene Iripa
Abdulrahman Khalaf-Adil Jehad
Teputepu JR Laiseni
Christina Lilomaiava
Jack Tapasu Laulu
Katie Lowry
Te Hiiringa Mareikura-Tane
Kiana Martin
Pafe Momoisea
Mau Muliaga
Natasha Nair
Dayella Nathan
Nicola Nimo
Caitlyn Notley
Ahokava Patrick
Verenaisi Pickering
Feofa'aki Piliu
River de Prinse
Vaimaila Pulotu
Eddie Rangi
Ian Ratusau
Marquise Rogers
Adarsh Sharma
Lauryn Siua
Wanyae Suafo'a
Talalelei Talalelei
Serenity Temu
Staesia Thompson
Leli Tuiaki
Moesavili Tuioti
Atiana Ueti
Rita Youab


Understanding NCEA – read more here


In the main photo
Back row from left:
Joseph Nguyen, Ranish Chand, Lotoa Crawley, Salvatore Gargiulo, Rebecca Girdwood, Carla Salting, Pete Jones, Jamie Brewer, Kyran Gill
Front row from left:
Cassandra Wilkinson, De'Vontaye Matekeua, Helen Lesa, Lupe Fifita, Jessie Chen, Tessa Dreadon, Mele Tapueluelu